Goosmann Law Firm is proud to announce on of our March Partners of the Month, Daniel J. Epstein.

Daniel J. Epstein (Dan) is a construction, business and commercial litigation attorney who helps his clients build resolutions, demolish disputes, and design strategies for success. Dan represents owners, general contractors, developers, architects, subcontractors, engineers, suppliers, insurers and lenders in countless disputes, state and federal court lawsuits and arbitrations. Dan is also a Goosmann Law Firm litigation practice area leader.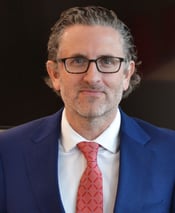 Get to know more about Dan Epstein
Q: What made you want to become an attorney?
A: I developed an interest in becoming an attorney at a young age from watching my father in the courtroom. He was an attorney, so growing up, I watched him represent people and help defend their interests. From a young age, I always viewed being an attorney as a noble profession.
Q: What has been your biggest success as an attorney?
A: While I have won trials, arbitrations and appeals, what I would consider some of my biggest successes have been settling some lawsuits that we were able to secure a large settlement for our client or able to defend claims against our clients with favorable settlement terms when they faced settle potential excessive verdicts.
Q: What do you enjoy most about being an attorney?
A: Helping individuals and companies solve their problems inside or outside of litigation.
Q: What is your favorite thing about Goosmann Law Firm?
A: The people, the team atmosphere, and the support we received from staff and other attorneys.
Q: Did something influence your interest in construction law? If so, what?
A: Construction lawsuits can involve complex situations involving multiple parties and issues. Coming into a construction litigation, we have the ability to look back and attempt to diagnose what happened on a project, who created the situation and what can be done to remedy the problems.
Q: What do you enjoy most about Litigation?
A: Litigation brings unique and different lawsuits where no two litigations are the same. This allows me to work on lawsuits that each have their own complexities, individuals and legal issues which allows for each new lawsuit to be unique and interesting.
Q: What do you enjoy doing outside of the office/courtroom?
I enjoy playing golf, cooking, traveling, attending concerts and listening to music, shopping and watching Michigan basketball.
Q: What is your favorite quote?
"There are three kinds of lies: lies, damned lies, and statistics." -Benjamin Disraeli
Check out Dan's Podcasts