Goosmann Law Firm is proud to announce the February Partner of the Month, Nick Montague!
Nick joined the firm in April of 2018 and he is the practice area leader for Goosmann Trust Law Counsel. For three years Nick has been selected on the Super Lawyers Rising Stars list. He was recently named on the 2020 Best Lawyers: Ones to Watch list for Trusts & Estates. Nick is a member of the Omaha Estate Planning Council and the Association for Corporate Growth (ACG). He is your go-to guy for all things related to estate planning, including the use of revocable trusts, irrevocable trusts, wills, and powers of attorney.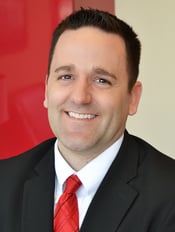 Get to know more about Nick Montague
Q: What made you want to become an attorney?
A: I initially pursued a Juris Doctor to springboard into a career in Federal Law enforcement. Estate planning became my passion shortly after law school and finding my niche in the profession made me want to continue my career as an attorney.
Q: What has been your biggest success as an attorney?
A: The ability to cultivate long term relationships with clients and business partners. Going beyond the transactional nature of the attorney and client relationship.
Q: What do you enjoy most about being an attorney?
A: Bringing peace of mind to clients.
Q: What is your favorite thing about Goosmann Law Firm?
A: The vision, the fearlessness, the authority to break the mold.
Q: What do you enjoy doing outside of the courtroom?
A: Spending time with my wife Malorie, son Colton James, and daughter Madison Marie. I also enjoy connecting with people from all walks of life.
Q: Any fun facts about you?
A: One time I came face to face with Dwayne "The Rock" Johnson at a Waffle House of all places!
Q: Do you have a favorite quote?
A: "Opportunity is missed by most people because it is dressed in overalls and looks like work." -Thomas Edison
Check out Nick's Podcasts
When Do You Need to Start of Update Your Estate Plan